Flux Laser & CNC Studio launch the Ply Works Collection
Over 50% of under-35s rented their homes in 2016. Part of this generation, Glasgow School of Art alumni Alice Jacobs and the team at Flux Laser & CNC Studio, saw an opportunity to create simple, practical and beautiful furniture that would stand the test of time and repeated moves.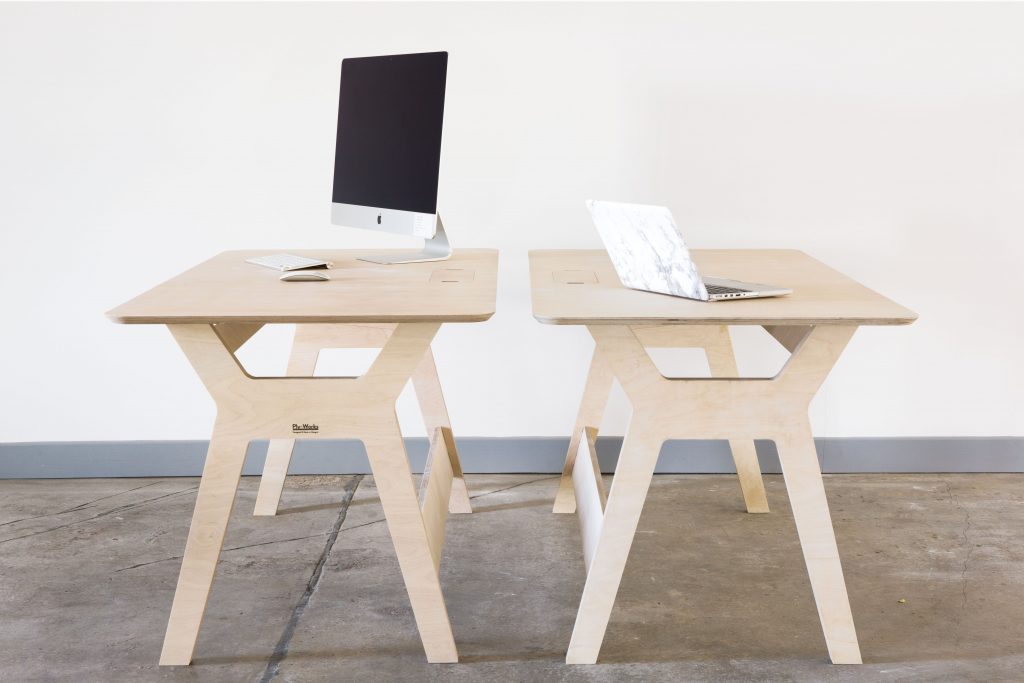 More and more of us are renting; moving from year to year and taking our belongings with us. But we don't think that should mean compromising on how we furnish our homes. Too often we put up with flimsy, disposable furniture; poorly constructed flat packs falling apart or failing to re assemble, meaning money and time wasted.
Flux decided to design a furniture collection that could meet the needs of a new generation of renters – beautiful, sustainable and robust. With sustainability and longevity at the Collection's core, each piece is made from sustainably sourced birch plywood and constructed with a maximum of only six parts and four screws. Together with cleverly designed joints to allow for multiple re assembly in less than five minutes, this furniture is designed to move with the times and the location.
Flux Laser & CNC Studio have launched this collection exclusively with the crowd funding website Kickstarter, set to close on  30th June 2017 at 8pm.
To back the campaign, you are able to pre-order one of the pieces of furniture from the collection. With inspiration taken from the city of Glasgow itself, the Collection's range includes The Tenement Desk, an unobtrusive homeworkers desk; the Mhor Dining Table; the versatile Mhor Stool, which also doubles as a side table; scaled down versions for children and, finally, the Mhorain Desk, a larger work surface for a studio or office.
With pieces starting from £35, pre-orders via Kickstarter attract special discounts until the end of June when the campaign ends.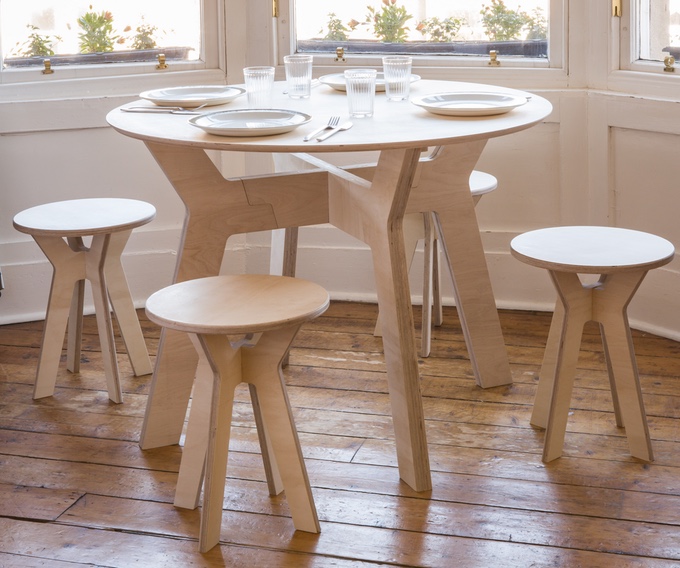 "Having to put up with poor, badly designed furniture, that more often than not got binned, got us all thinking. Combining simplicity of style, sustainability, practicality AND affordability was the goal and we hope people love what we've come up with as much as we do." Alice, Flux Laser & CNC Studios, Founder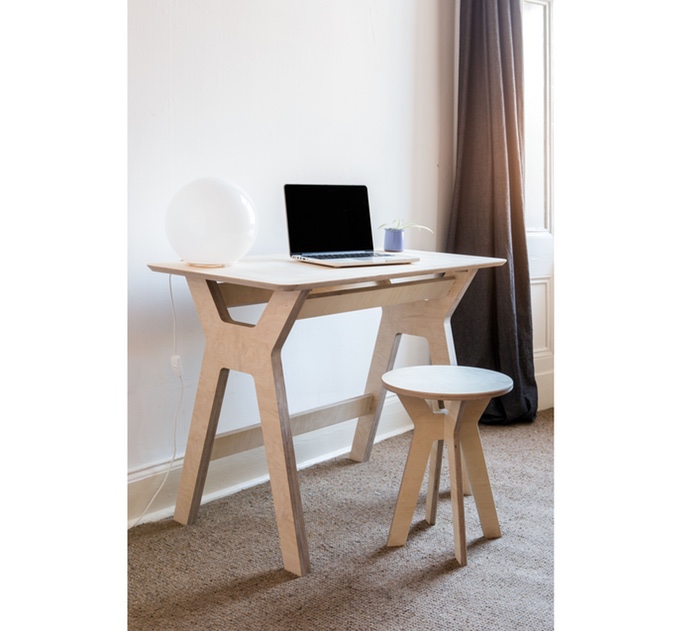 Conceived and designed by Alice Jacobs and the young team at Flux Laser & CNC Studios, all the furniture is made in-house at in the Flux studio in The Whisky Bond. The collection utilises Flux's longterm experience with digital fabrication materials, from conception through to the finished product.
All the furniture is CNC (computer numerically cut) from FSC sustainably sourced birch plywood. They have a maximum of six pieces and four screws, coming together in less than five minutes. Every piece is sanded and hand finished with a spill-proof and robust blend of natural oils, leaving a satin-matt finish.
And, if you would like to customise your furniture, that's not a problem. All the pieces are available sanded, but unsealed, so you can paint, stain or varnish your Ply-Works piece to fit your style.
As one of the first tenants of the Whisky Bond, Flux continues to move from strength to strength. They have recently grown their staff and machines, becoming one of Scotland's finest digital fabrication facilities with a specialism in catering for artists and creative businesses.
For more information about Flux, head to their website here, or get in touch at hello@fluxlaserstudio.co.uk.